In today's business world, data is of paramount importance. A large section of the workforce is assigned for the upkeep and maintenance of data. Going by the current trends of how everything is getting digitized and computerized, the amount and value of data is only going to increase manifold in the future.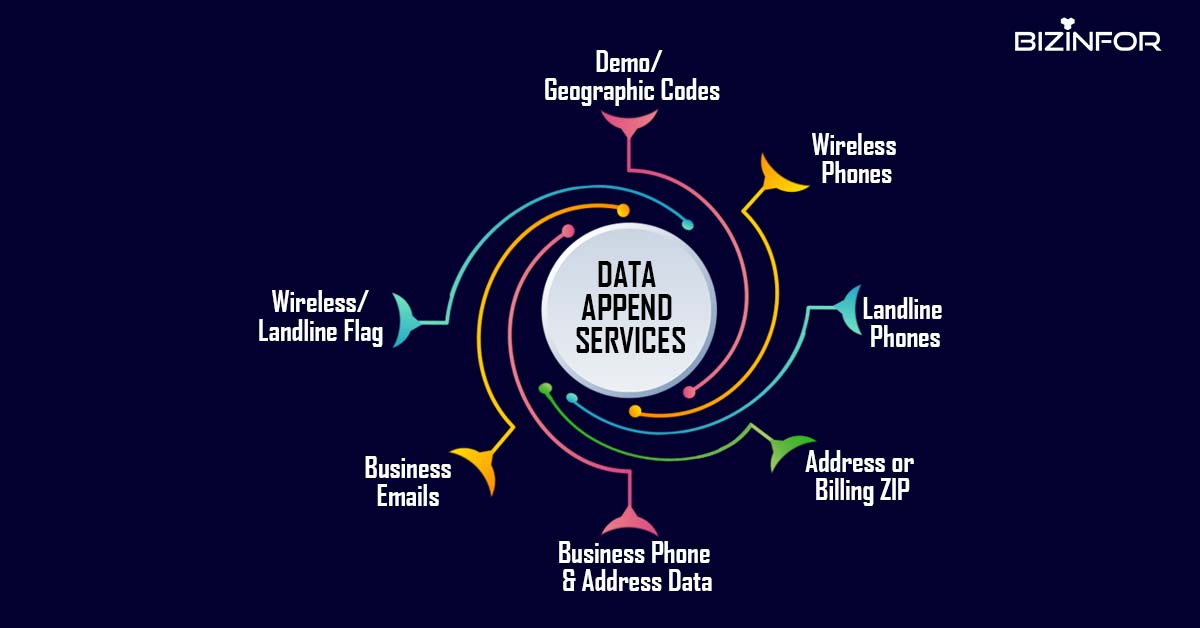 Most of the businesses today are dependent entirely on data. Any glitch related to database management can act as a spanner in the works and throw these businesses out of gear. Just imagine the scenario of how the travel industry or banking industry or eCommerce businesses would be if they were unable access relevant data for a day. It would be absolute chaos. In present day business world, importance of data cannot be over stressed. Data today is omnipresent and omnipotent.
What is Data Appending?
To enable smooth running of businesses, their databases need to be in order. If the records in the database are outdated or erroneous or incomplete, it can prove detrimental to the growth of business. In addition, it can cause serious damage to the reputation and standing of the company among customers.
Data appending is the process of correcting all the mistakes which are present in any given database. It is the procedure of efficient management of databases and making them robust and reliable. Through data appending, all the erroneous information in databases can be done away with. With that accomplished, you are left only with relevant, precise and up-to-date data. Such accuracy in data enables safe and secure communication with prospects and opens the doors for fail-proof and successful business practices. B2B Data appending services can save time, money and efforts required to manage the database.
Imagine a situation where a company needs to sell its product or service to a very important client. Suppose the client has changed his phone number or email id and it hasn't come to the notice of the mentioned company. Now the missives of the company can in no way reach the client and it is as good as saying the client is untraceable. This can cause major heartburn and a substantial loss to the company. It can also be the source a major embarrassment to the people who manage data at the company. All due to a changed phone number or email id. Such a situation can be completely avoided through the implementation of data appending services. You have only active and responsive contact info at your command once you have undertaken data appending services.

Types of Data Appending Services
There are several varieties or categories of data appending services. B2B marketers rely heavily on such a facility and when they do so, it is called B2B data appending services. Some of the important data appending services are:
Email Appending
Phone Appending
Contact Appending
Social Media Profile Appending
Reverse Appending
Let us check what each of these data appending services mean.
Email Appending
As a B2B data appending service, Email appending services is of immeasurable value. If your database is outdated, chances are that they contain obsolete email addresses. In such a case, the emails that you send out to your prospects and customers could bounce and or end up as spam. You need to opt for email appending services to add all the relevant email addresses to your database. This is sure to make your email marketing campaigns fruitful and productive.
Phone Appending
If your database hasn't been maintained with up-to-date records, it could very well contain phone numbers of prospects and customers which are no longer in use. This can mean that your efforts to contact such prospects and customers can turn out to be futile. Phone appending services will revamp your database with active and current phone numbers. This can make a sea of difference to your telemarketing campaigns.

Contact Appending
Within any organization, there are several decision makers. It could so happen that your existing database has contact information of only one or a few them. In such a scenario, you need to avail yourself of contact appending services and bolster your database with contact information of all the important decision makers within the targeted company. Now, when you can run your marketing campaigns, you can reach out to multiple prospects and thus increase the chances of getting a response.
Social Media Profile Appending
Social media platforms like Facebook, Twitter, Instagram and LinkedIn have revolutionized the way in which people across the globe connect with each other. Along with that, they have emerged as important tools for digital marketing. By social media profile appending, you can add details of prospects to your database which can help you with marketing over social media platforms. This can facilitate greater lead conversion and better returns for your business.
Reverse Appending
Reverse appending is the process of procuring name and postal address of a prospect or customer from their email id. This step is based on the fact that most B2B marketers would like to expand their reach by using marketing tactics which extend beyond mere email contact. Reverse appending can be one more way in which you can effectively reach out to your prospects and customers and garner better business deals.
All the above services have proven to be super effective as B2B data appending services. Let us take a look at how these services have turned out to be so efficacious.
Beneficial Outcomes of Data Appending Services
The positive outcomes for marketers by employing B2B data appending services are various and encouraging. These services have also ensured you can no longer take the task of database management for granted or be complacent about it.
Multi-channel Approach towards Customers
Your leads and customers could be as different as chalk and cheese. Naturally, their preferred mode of communication may vary widely from each other. With B2B data appending services, you get to play around since there are so many options available to you. Now you have a database which keeps you well equipped and you can try out contacting your prospects and clients in all the methods which are at your command.
Find New Leads Who Are Similar To Your Existing Customers
When data appending services are employed, it is likely that from the details of the list of your existing customers, data could be collected about a new set of prospects who have similar demographics or likes and preferences. This could mean you get to access contact info of a fresh set of prospects with whom your marketing campaigns have a very high likelihood of being productive. In due course of time, there is a big chance that these new prospects would become the customers of your business.
Higher Chances Of Customer Retention
In any business, majority of the revenue is accrued through existing and loyal customers. And the existing customers like to be made to feel wanted and needed by the company. With B2B data appending services, there is sure to be a sea change in the quality of your communication with your prospects and clients. This is bound to be noticed by your existing customers who may very well show their appreciation to you. And they might continue to do business with you. Thus, data appending services can also assist you with customer retention.
Improved Business Communication
What email appending service does is, it eliminates all the inactive and discarded email ids. It also eliminates the chances of emails which bounce or end up as spam. With greater assurance of your emails reaching your prospects and customers without any hitch, you can undertake personalized email communication with your customers. This is sure to result in better response rates and increased conversion of leads. This means better business and we have data appending services to thank for it.
Cost Effective and Time-Savvy
With a database which hasn't been maintained properly, the process of communication can be a chore. It is bound to make contacting your prospects and customers a laborious and long drawn formality. However, data appending services would surcharge your business campaigns since they put the latest email ids, phone numbers and social media profile information in front of you. This is going to make your marketing campaigns run faster and with lesser investment of money, resources and efforts. Any means which saves time and money is a big asset in the field of business.
Better Engagement With Customers
With a whole lot of B2B data appending services accessible to them, B2B marketers can mount their business campaigns with increased assurance and confidence. This is because it is now easier and more convenient to communicate with your prospects and customers. The contact can happen over phone or email or over social media platforms. Data appending services can lead to greater and more frequent interaction between the companies and its clients. There can't be a more beneficial development for any business than this. It can only point one way and that is, improved conversion of leads, better sales and higher profits.
Coda
Data is the cornerstone of a lot of the major businesses today. With the increasing prevalence of digital marketing, effective management of data is a priority which no business worth its salt can ignore. It is no surprise that data appending services have come to the fore in recent times. Data appending services make marketing campaigns more dynamic and result-oriented. The value of data appending services is only going to grow further and it is a strategy which might soon become indispensable.