The global mining industry has witnessed immense growth in the past few years. The industry grew from USD 2022.6 billion in 2022 to USD 2145.15 billion within a year and continues to grow at a CAGR of 6.7%. The global mining industry is expected to attain a value of USD 2775.5 Billion by 2027. All of this is because of the recent technological development in the industry.
Technological solutions have a significant role in the growth of the processes involved in the mining industry resulting in an overall enhancement of productivity. Let us explore the latest mining industry trends and the critical benefits of using technological innovations in mining corporations.
The Impact of Technology on the Mining Industry
With the emergence of new technologies in recent times, the mining industry has witnessed some remarkable benefits that have enhanced the growth of this significant sector. Here are some of the important transformations that happened in the mining industry due to technological intervention
Integration of technology has enhanced productivity in the mining industry. With advanced technology introduced in the processes, operations have become more efficient, resulting in better performance and cost-efficiency.
Multiple mining corporations have adopted analytic tools, giving them a global viewpoint ahead of local limitations. This has resulted in a higher yield of energy and minimal recovery.
Using advanced technology has reduced maintenance efforts and converted it from a periodic exercise to an as-needed basis. Also, site workers have more visibility on maintenance records and predict equipment failure before it occurs.
Automation in critical site processes has taken over the workload from manual labor resulting in better safety for site workers with reduced incidents of serious hazards. Additionally, automation ensures continuous operations in mining sectors, reducing the amount of money spent on labor charges and maintenance costs.
The most important benefit of mining technologies is the reduced impact of mining operations on the environment with lesser energy consumption.
Latest Mining Industry Trends That Are Transforming Mining Operations
As evident, technological advancement has a lot to do with the growth of the mining industry. So, let us look at some of the mining industry trends that most mining corporations have adopted in recent times.
Artificial Intelligence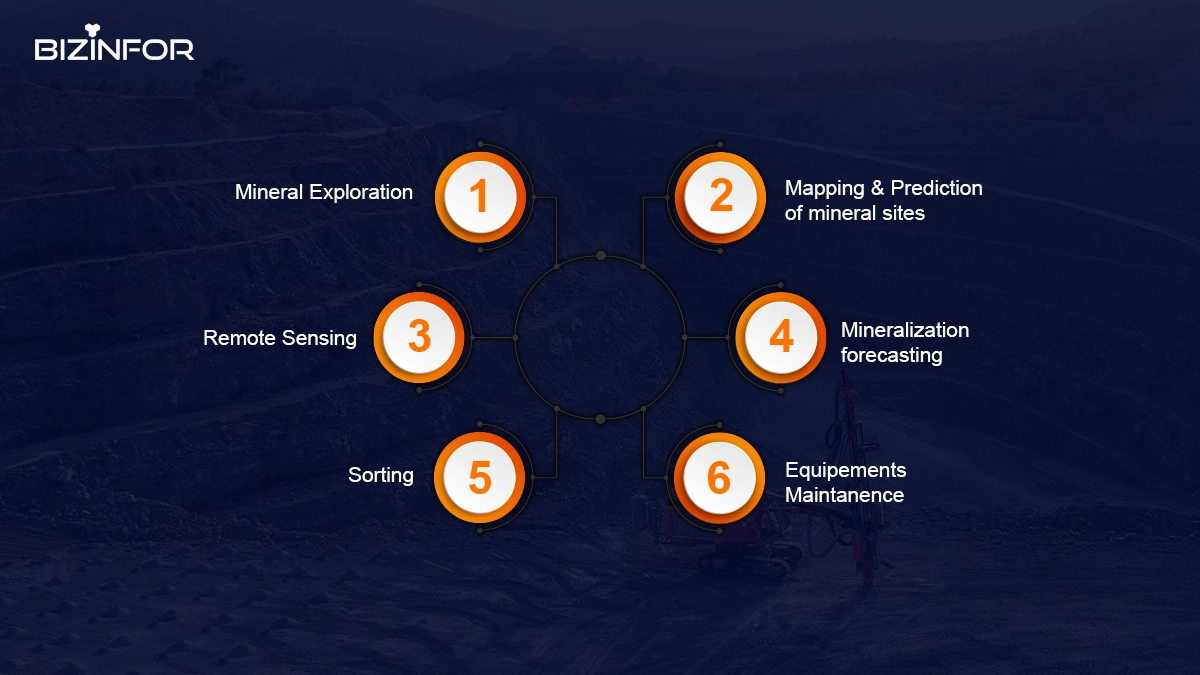 Artificial Intelligence solutions simplify mining processes by a considerable margin. Mining corporations use machine learning and smart data analytics to make data-driven decisions. With artificial intelligence, acquiring and analyzing huge amounts of data has become easier, allowing companies to make quicker and more accurate decisions that improve their productivity tenfold.
Using AI technology, companies can locate mineral-rich sites for improved extractions. Moreover, automated equipment that uses AI, such as self-driving trucks, makes it easier to explore dangerous site locations reducing hazardous incidents with site workers. Furthermore, AI has simplified drilling systems that work for longer periods without much manual effort enhancing the workflow in mining activities.
Overall, incorporating AI is a huge step towards reducing environmental impact, cost-efficiency, and enhancing safety in the mining industry.
Automation
Automation is one of the most popular mining industry trends, as its implementation in mining processes has allowed companies to work continuously and increase input for maximum production.
Automation has become an essential transformation in the mining industry with the demand for higher productivity and, more importantly, improving safety and health issues. Automated tools facilitate the implementation of remote operations centers, and robotic operations like site monitoring, driving and ventilation systems, etc., have replaced manual labor.
As a result, site workers no longer need to work in hazardous site locations and have reduced exposure to harmful materials while working. Moreover, low-risk remote working minimizes the number of site workers and promotes better efficiency among them. Remote centers also help with cost-cutting by reducing expenses on the additional supportive infrastructure required to maintain a large workforce, such as providing housing, health facilities, etc.
GPS Technologies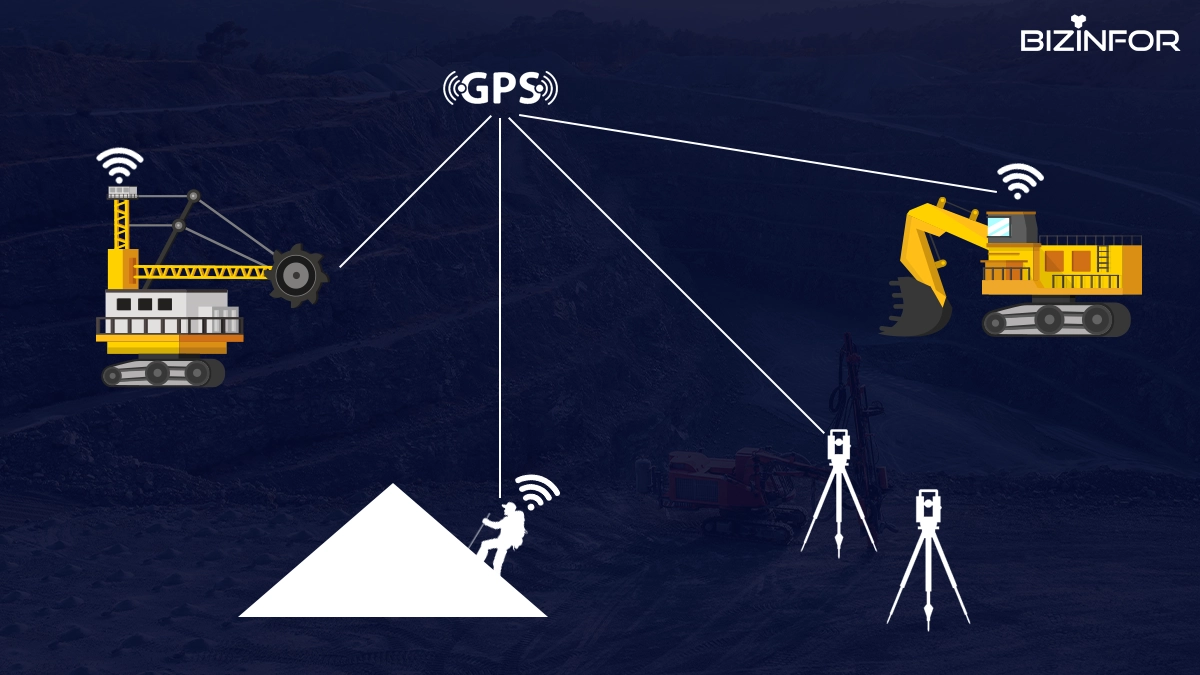 GPS tech is gaining prominence in the mining industry and will be a significant trend in the coming years. Global Positioning Systems (GPS) allow mining companies to create three-dimensional images of the locations where their equipment is placed.
Watching these images on moving map displays, allows workers to see machinery and tools in the exact places where they are located, thus improving navigation and operations in complex and difficult locations, even while working remotely. These GPS technologies are specially built to resist extreme weather conditions in mining sites.
GIS or Geographic Information Systems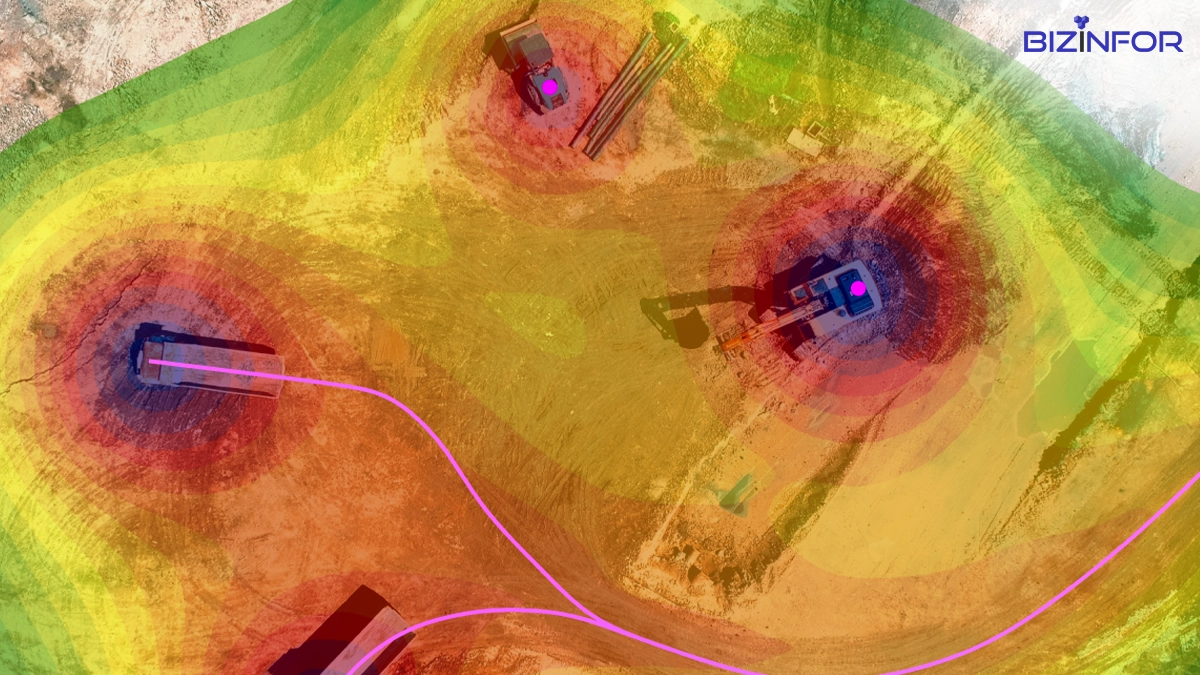 Geographic Information Systems are much like GPS technology and are a crucial tool to identify the geographic relationships in the mining site and how they impact our surroundings. This is crucial among the mining industry trends and has empowered mine workers to solve practical issues like accessibility in difficult locations.
Geographic Information Systems generate geospatial data that provide information about any object's size, shape, and location, which helps miners to have a clear insight into the mine's real-time geographical aspects. This, in turn, helps them with
Report generation
Exploring Minerals
Supervising facilities
Managing tailings
Environmental Compliance
Sustainability
And more
Workforce Tracking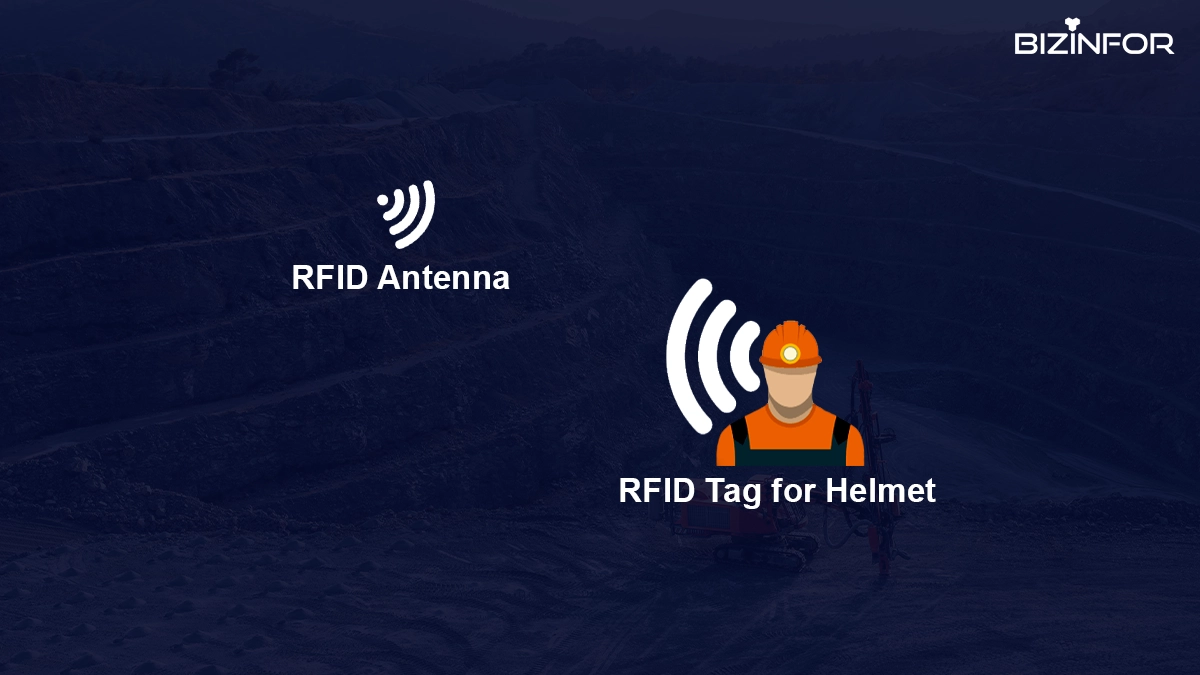 Worker management is an essential aspect of the industry to improve worker safety and reduce accidents. As such, workforce tracking has become a need, more than a trend in the industry, and the introduction of wearable technologies has facilitated this initiative.
These wearable technologies help in workforce tracking using radio frequency identification to monitor the mine workers in real time. This especially helps during a crisis. For instance, supervisors can easily track and help the affected workers when an accident happens without wasting time. It significantly improves emergency response time and allows them to restrict movement in dangerous areas to prevent incidents.
Drones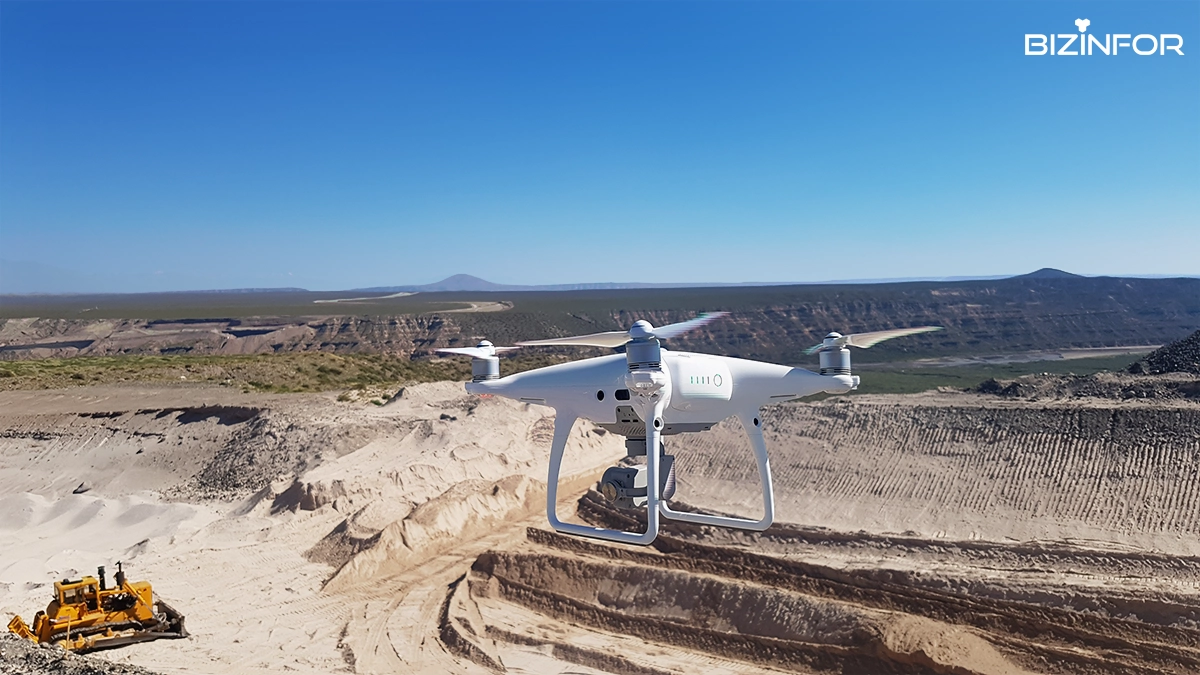 Recently, drones that can be remotely piloted have started gaining popularity with mining companies. They perform nearly the same functions as a helicopter but at a much-reduced cost, thus helping companies improve their performance without spending more.
Drones help with critical site processes like providing site conditions data for better quarry management and other services such as
Site surveillance and mapping
Collecting visual information about dangerous sites
Acquiring data about stockpile volume without manual effort
Managing tailing dams
Infrastructure maintenance and inspection
And more
Spatial Data Visualization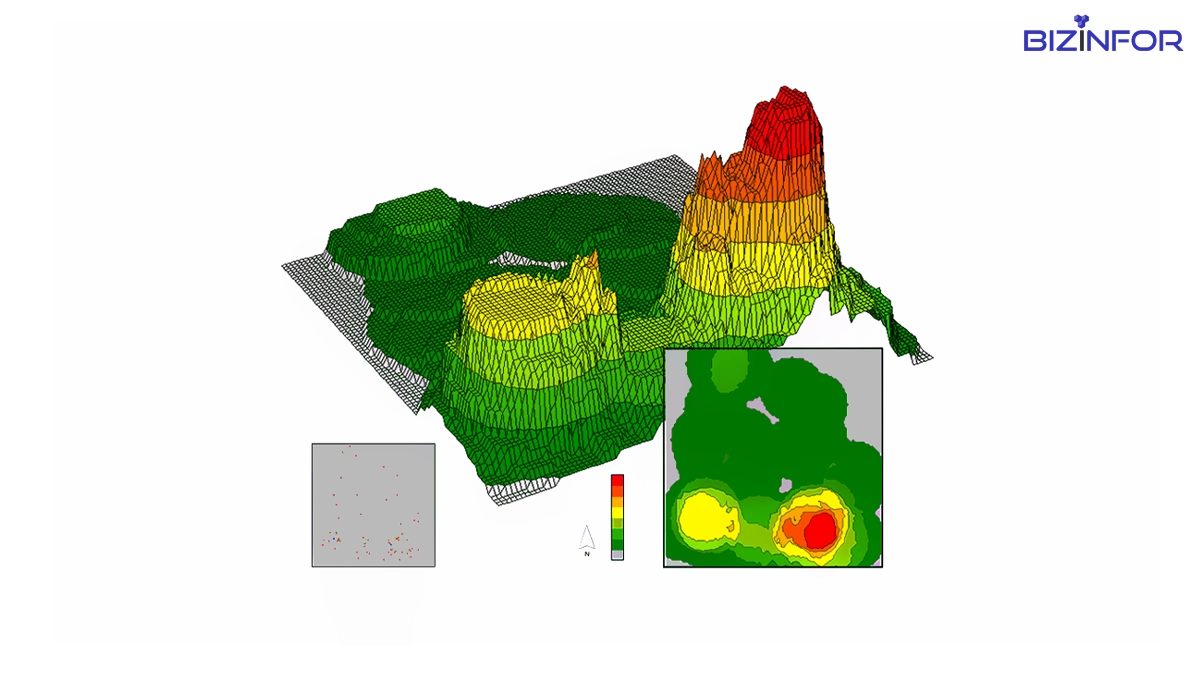 Spatial Data Visualization is rapidly growing among the mining industry trends. It has enabled miners to virtually construct and deconstruct mining sites and analyze their implications without even touching the ground. Using this advanced technology, mining corporations make insightful decisions to reduce costs and lessen environmental impact.
Spatial Data Visualization includes the following software types
3D modeling to generate realistic mine impressions by analyzing depth perception
Virtual reality for creating mock environments with real-time data
Augmented reality is used in virtual simulators for training the mine workers at lesser costs.
Digital Twinning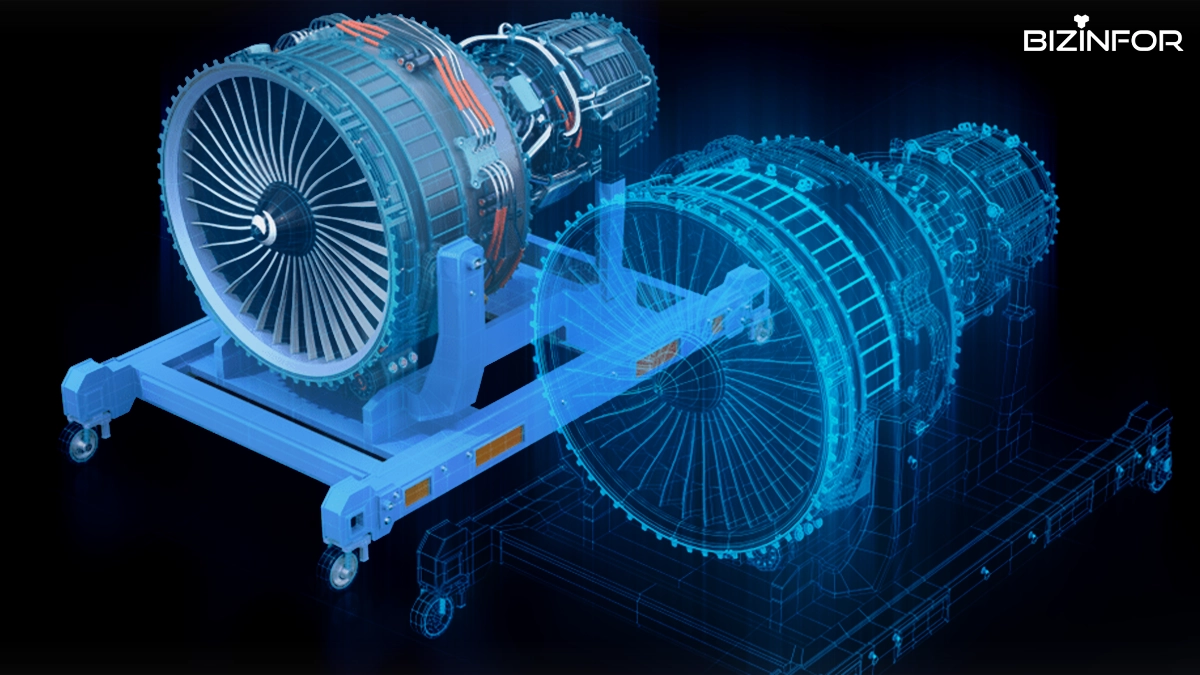 Digital twinning refers to creating exact digital models of real-time operations using geological and technical information about mining sites. It has become possible, especially due to the implementation of sensors across different locations in the mining sites.
Digital twinning has become extremely popular as it allows miners to run simulations and predict potential failures that can emerge in mining operations or equipment performance. Using this digital tool, it helps with operational planning and strategies. It helps in reducing overall costs by preventing unwanted disruptions in workflow and production. Moreover, it also helps with optimized maintenance of mining sites and equipment.
Wrapping Up
Supplementing the mining operations with these latest mining industry trends can significantly add to the company's overall growth. Technologies like Artificial Intelligence, Geographic Information Systems, Spatial Data Visualization, etc., are game changers in the industry. If your business provides solutions associated with these technologies, a Mining Industry Email List can help you connect with key decision-makers in the industry.