When it comes to ease of implementation and effectiveness, nothing beats email marketing. In a research, 48% of marketers considered email marketing the most effective online marketing channel for lead generation.
While email marketing does produce great results, long sales cycles can often present challenges when it comes to attracting B2B leads. With a sales cycle often lasting for months, prospects can become disengaged. That's where email automation steps in. Email automation makes the lead nurturing process more consistent and less time-consuming, leading to an improvement in the number of leads.
Here's how email automation can be implemented effectively to generate more leads.
How Email Automation Boosts Lead Generation
By using email automation, you can turn your email marketing strategy into a powerful lead generation strategy.
Considering the benefits of email automation for lead generation, about 49% of businesses have implemented some or the other form of email automation.
Here's how email automation helps lead generation.
Easy Segmentation: When you obtain business information from a client, including their emails, they are entered into your CRM system or contact database. The software will also allow you to segment your B2B email list based on several factors, such as their behavior, demographics, etc. This will enable you to deliver tailor-made email messages to your contacts.
Personalize your Offerings: With the help of the automation software, you will be able to determine how your contacts have interacted with your website and which products or services they are most interested in. Using this knowledge, you can personalize your offers and recommendations.
Schedule Everything in Advance: It will enable you to send emails to a particular segment of customers from your B2B email marketing list according to the time and frequency of your choice.
No Manual Work: Using email automation, you can send consistent updates from your business to your contacts without you having to do everything manually. You don't have to type email addresses manually every time you send your emails.
There are so many ways email automation can be used to boost conversion rates and lead generation. Some of them are described below:
1. Behavior-Triggered Emails
Marketing would have been so much easier if the prospective customers followed a predictable path, taking the same steps in the same order before making the purchase. But the world of marketing is full of unpredictability, and so are the customers. This is why behavior-triggered emails work so well to entice prospects and generate leads.
Behavior-triggered emails are sent to the customers when the customers:
Get a tag
Get added to a list
Submit a form on your website, or
Click a link in an email
Visit a specific website page
Triggers are excellent tools for follow-ups to previous engagements from your target customers.
2. Set Up Email Autoresponders
Email autoresponders are marketing tools that automatically send emails to your prospects so that they remain connected with your business. It's an excellent way to keep in touch with your prospects and customers. But to start reaping the benefits of email autoresponders, it is important first to add subscribers to your B2B email database. You can include autoresponders to the most important forms on your website pages.
Autoresponders are most commonly used by businesses to let people know they've received their email and they'll get in touch with them soon.
Here are some purposes B2B email autoresponders are used:
Welcome emails
Subscription confirmation
Lead magnet emails
3. Use Email Drip Campaigns
These campaigns consist of a sequence of automated marketing emails sent to the targeted email subscribers on a set schedule to achieve specific marketing goals. B2B companies use drip campaigns to nurture their leads since the sales cycle is longer than B2C.
According to a report, businesses that use automated marketing emails to nurture leads experience a whopping 451% increase in qualified leads.
Each time a drip email is sent out, it comes from a queue of already written emails. Drip marketing involves sending people the right emails at the right time.
For example, if someone subscribed to your newsletter, they'll receive a welcome email; two days later, they'll receive the first follow-up email, and so on.
Automated email drip campaigns can be used for:
Building a sales pitch
Appointment setting
Increasing free to paid conversion
Lead Nurturing
4. Use Email Automation with Conditions
With the help of this strategy, you can target your messages to your B2B email list contacts based on specific tags and custom fields. When you apply conditions to emails, it makes email messages more relevant and personalized to your contacts. This results in:
Improved email performance
Stronger connection with your customers
Better nurturing of relationships with contacts
Here are some ways you can use conditions in email marketing to improve message relevancy and ultimately generate more leads:
You can use emails with conditions to personalize content based on specific interests. For example, if a contact repeatedly visits your specific product page, consider using automation to tag them based on their interest.
You can use emails with conditions to personalize content based on your contacts' geographical location. For example, if some of your contacts live near a major city, you can send a campaign email containing an image of that city. The purpose of including that image is to personalize your email content, so it resonates with your contacts living in that location.
5. Automate Resending to Non-Openers
This allows you to resend the same email, but this time with a different subject line to the contacts in your B2B email database that did not open your previous email. Resending emails to non-openers is done with an aim to increase your email open rates. In the below image it's illustrated how emails for non-openers are automated.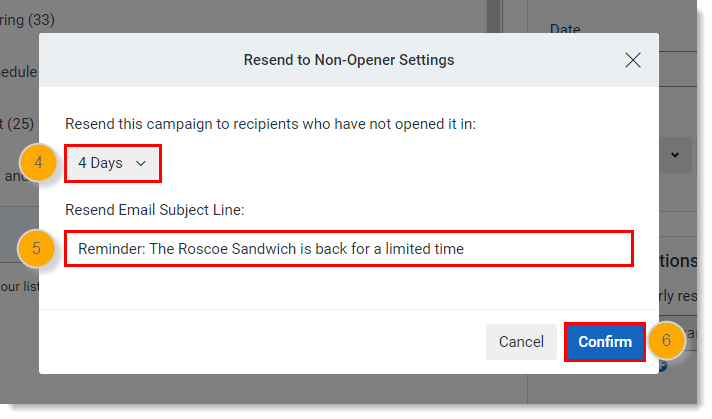 Source: Constantcontact.com
Conclusion
Having email automation as a part of your email marketing campaigns will improve your lead generation results. It will also improve your B2B sales performance, but it always starts with understanding your sales process and having a plan in place. With the right plan in place for generating B2B leads, you will be able to nurture your audience seamlessly and guide them to the ultimate conversion from prospect to paying customer.