What is a Gated Content?
Let's first understand what a gated content is.
Gated content is any kind of online content such as webinars and videos, downloadable content such as eBooks or whitepapers, non-downloadable content such as free consultations and price quotes; which the visitors can access only after providing their data. In short, a user must furnish personal data to access the content.
In order to gain access to the content within a website, gated content expects the user to complete the form or purchase a subscription. The form may demand information about the user like username, email address, and contact details. In some cases it may demand you more information like your jobs and organizations. The form pages are sometimes referred to as information gates or registration walls.
The most popular gated content strategies are listed below.
Content Upgrades
eBooks and whitepapers
Webinars
Email series and courses
Demos
Spreadsheet template
Product demos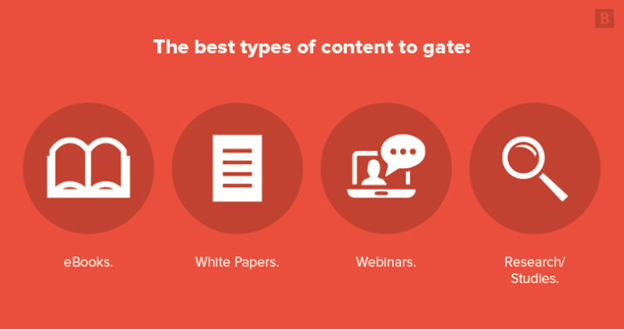 Image Source: brafton.com
The prime objective behind gated content is lead generation, which aims in obtaining the user data for the purpose of potential leads or prospects. Gated content works by incentivizing lead generation, because you give yourself another stream of valuable leads by developing an enticing gated content.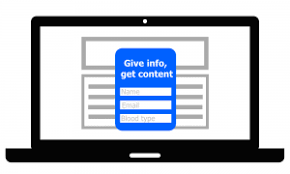 Image Source: launch-marketing.com
"A study reveals that 80% of the assets related to B2B content marketing are gated"
Pros of Gated Content
Increases lead generation
Enhances the leads by obtaining high-quality leads, which maximizes the sales
Imparts analytics and insight into your customers
Enables email list segmentation
Forge a trusted relationship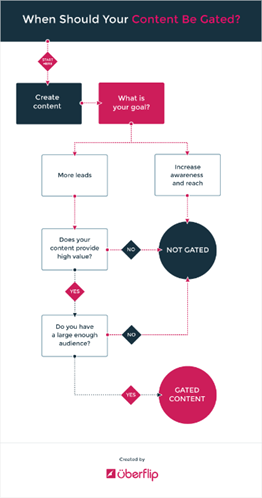 Image Source: optionmonster.com
Difference between a Lawyer and Attorney
An attorney or attorney-at-law is a member of the legal profession, who are qualified and certified to represent a client in court when defending a case. An attorney is licensed to represent the clients in legal affairs.
On the other side, lawyers are trained professionals in the field of law, who provides legal advice and aid on the legal issues. A lawyer is also permitted to conduct suits in court.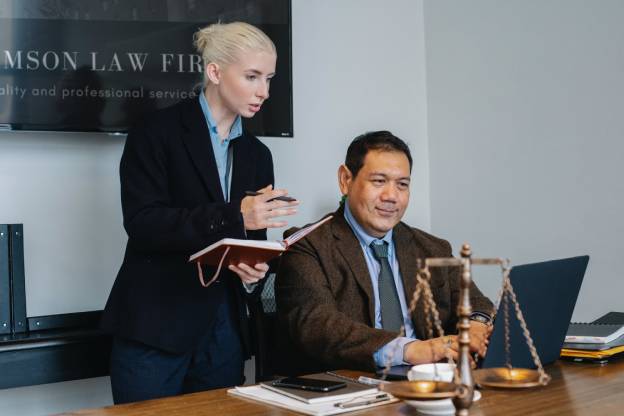 Now, let's discuss about how gated content should be used for generating leads for attorneys?
Creating an Email-gated Webinar
Planning, running and executing a webinar with your clients is an excellent idea to show your expertise, your salient characteristics, and distinct features that you offer to your client.
Listed below are the steps to use this idea to generate more leads.
Design a landing page on your website that can be utilized to turn the visitors into leads by filling out a form
Create a social media ad campaign with the same consistent features (messaging, images, and value propositions) as per your webinar's landing page
Run your webinar. At the same time, remember and focus your goal of bringing on the clients
Create an automated email drip campaign after the webinar, which is especially designed to convert webinar attendees into clients
Creating an Email-gated eBook
EBook is a robust gated content strategy which can be even downloaded. Not every information works in the form of videos or webinars. It's even better to write, save, and utilize it as a reference for the future. Yeah! That's where the requisite of an email-gated eBook takes away its place.EBooks work exceptionally in educating your clients before they prepare themselves to commit to sign anything. EBook is also an obliging asset which succor in introducing you to your clients.
Focus on your target market. Create eBooks that are relevant to your target market and create content that is location specific
To ensure delivering more information to your eBook recipients, create an automated email campaign
Creating an Email-gated Questionnaire
You get the best answers only by questioning. Yes! By filling out a questionnaire, you can understand the requisites of your clients. The questionnaire imparts crucial information for your team and helps to understand your clients better.
Create your questionnaire
Prompt the visitor of your website to fill it out
Send them the results via email
It is an excellent tactic to acquire their email address. At the same time, magnifies you as a useful source of valuable information.
Creating an Email-gated Video Series
Create an Email-gated video that is well-produced by delivering true value. You can invest in a video tool that enables video gating and facilitates the creation of high-quality differentiation tools for law firms.
Why Choose BizInfor to Generate Leads for Attorneys?
Attorneys are one of the highest demand across the globe. If you need to connect with these adept professionals, then you are in the right place. Investing in our Lawyers mailing list and Attorney mailing lists could be the finest decision you can make.
Now, let's have a look at our distinctly designed mailing lists.
Generate Authentic Email List
We, at Bizinforusa offer you an exceptional and verified Lawyers mailing list to succor in B2B campaigns across multiple channels. We have exceptionally designed the Lawyers mailing list by creating a repository of data that has been compiled from reliable sources and deliberately validated which offers the below advantages.
Maximizes the campaign success
Succor in running successful global campaigns
Assured revenue
Our data experts impart the most precise Lawyers mailing list which are distinctly designed to facilitate the geo-targeted campaigns by offering data according to the business requisites. Our Lawyers mailing list adhere to the international compliance standards which assists in acquiring your business goals.
The accurate and verified Lawyers mailing list comprises the responsive Lawyers Email Leads which is an excellent source for running cost effective email marketing campaigns. Bizinforusa imparts the top-notch leads that paves a way to earn higher revenue with minimal investments and assures success.
Designing Attorney Mailing List
Our Attorney Mailing List fosters brand building and promotes revenue generation through global campaigns by providing comprehensive, reliable and top-notch list of targeted leads. We, at Bizinforusa ensure that there are no data duplication and erroneous data. The Attorney Mailing List of Bizinforusa is designed in a way to facilitate the customized campaigns by segmentation which succor in reducing the overall costs spent for campaign. Our Attorney Email List offers encyclopedic data of Attorney Email Addresses which assist in supreme quality lead generation that can transcend geographical barriers. We, at Bizinforusa can promise you the success of campaign by boosting your campaign results through our extensive collection of Attorney Email Addresses list. We enhance your business conversions through lead generation by offering well-segmented data which is most ideal for business communications.
Our Attorney Email Addresses list include the below details.
Full Name
Email address
Area of practice
Organization affiliation
Postal address
Geographical location
Phone number
Years of experience
Mailing address
Social media profiles
Fax number
Salient Features of our Email Lists
Verified and well-segmented
Easy-to-access design for reaching out legal practitioners
Cost-effective and convenient
Data with high deliverability rate
Reach targeted audience
Facilitates effectual business communications
Customizable Email lists
Facilitates geo-targeted campaigns
Boosts revenue generation
Systematical updating and cleansing of data to evade duplicate and inaccurate data
Updated/verified list with no erroneous emails
Conclusion
To survive in the legal market and to acquire long-lasting success, attorneys have to focus on sustaining on top of their lead generation processes. Remember! Consistency is the key. For a healthy and triumphant future of attorneys, you can use lead generation with the right tools and strategies to deliver an overwhelming experience.