Well, the festival of Thanksgiving has a deep meaning and holds a great place in the heart of Americans. As the word suggests, it is an occasion to feel grateful or thankful to the near and dear ones. For the business world, too, it means the same—the spirit of being thankful and launching a campaign that revolves around the theme of Thanksgiving. Companies hold up sales and promotional offers as a way to thank the existing clients and warmly invite the new ones. It is believed that Thanksgiving is one of the busiest shopping spree time for people of the U.S. In case you have missed strategizing a marketing campaign for Thanksgiving, we have some interesting ideas for you that will not only add joy to the business but also offer vast opportunities.
Some Thanksgiving Marketing Campaign Ideas to Try This Year!
Thanksgiving is the right time to knock on the old doors (existing clients) as well as the new ones and grasp multiple opportunities.
1. Send a Thanks Note to Your Customers
Be a believer in utilizing the golden opportunities like this one. You can send a heartfelt thanks note to your clients for believing in you, new prospects for showing confidence in you, and existing ones for being by your side in the business journey. The key to success lies in the sincerity you hold towards your clients. Therefore, you need high-quality graphics along with a note to be sent for this Thanksgiving. You can also send this through social media platforms that have an extensive approach towards your target audience.
Some thankful note ideas are as mentioned below:
We are really thankful for your patronage for all these years!
Our company sends a heartfelt thanks to each one of you!
With the greatest blessings, we wish you Happy Thanksgiving!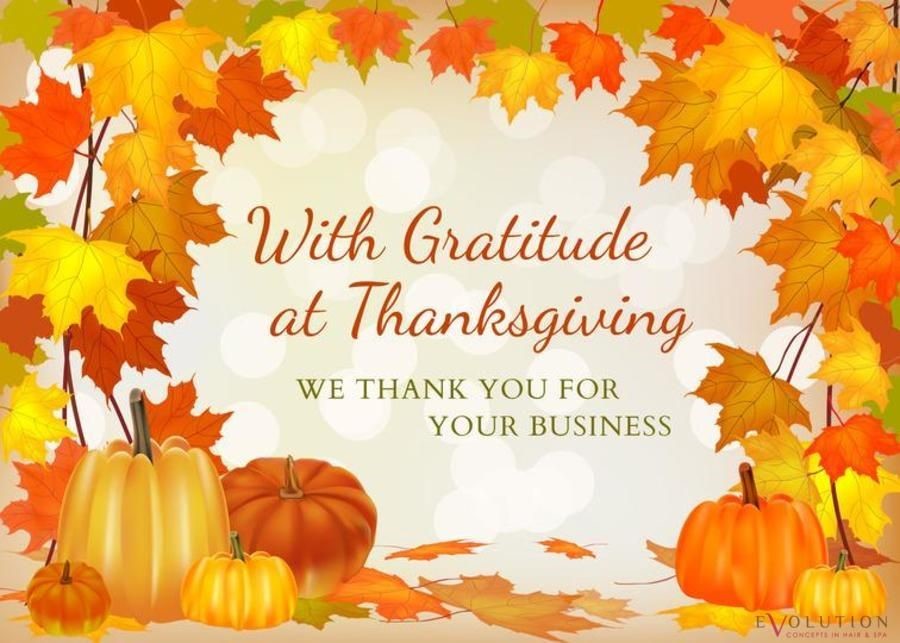 Image Source: https://in.pinterest.com/pin/601160250245096681/
2. Offer Great Festive Deals via Email
Thanksgiving is great to revive your email marketing campaign and bring back the lost connection. Many of your competitors must be practicing the same, and we suggest you the same. You can reconnect with your old clients by sending a Thanksgiving email along with an exclusive offer of discounts on services. This will entice them to get back and shop. Make sure the offer lasts at least a week to make the most out of the campaign. You can even pull Black Friday and Cyber Monday offer sandwiched with Thanksgiving to make it one major festive sale.
It is the best time to use your email list and make a better performance. After all, who doesn't like great deals!
3. Be Active on Social Media Channels
Social media is a vast and all-time favorite of many. It has offered business opportunities to many businesses and may offer the same to you. In times of occasions like such, make sure to stay active on social media channels. You can share Thanksgiving greetings with your audience or even share festive offer codes with them through social media posts. People like companies that communicate with them on a personal level; therefore, being socially present can turn out to be a great idea. A unique Thanksgiving post will simply add humility to your brand and let your clients know how well connected they are with you.
4. Create Valuable Content for Website
While you are busy being active on social media and emails, don't leave behind your official website. This is the real face of you for your clients, and needless to say, it has to stay optimized at all times. It's the Thanksgiving season, and you surely need to create content related to it. You can create blogs, videos, or infographics related to Thanksgiving with a themed graphic that syncs well.
5. Introduce Online Giveaways
Thanksgiving can add more joy when a free giveaway is offered to site visitors. Make your site visitors delighted by giving them a free insight or free guide in exchange for their email and contact details. You can also create a festive lucky draw or contest that will lead to site engagement and may generate future sales too.
Few Useful Tips for Making Thanksgiving Marketing Campaigns Impactful
You may have the best of ideas for your Thanksgiving marketing campaign, but if you don't have the extra features to make it impact, it may go in vain. As you know, holiday marketing campaigns are majorly about seasonal or festive themes, symbols, colors, keywords. This will make the campaign more interesting for the clients.
You can have a theme of:
– Blessings
– Turkey
– Gratitude
– Holiday season
You can use keywords or Jargons like:
– Harvest
– Happy Thanksgiving
– Gobble
– Mayflower
You can use colors like:
– Brown
– Gold
– Orange
– Red
Wrapping Up:
Thanksgiving marketing campaign is a good way to introduce yourself to new prospects and attend the existing ones. It is not simply limited to advertising oneself, but strengthen the bonds between client and company. With these ideas, we are certain you will have a joyous and profitable Thanksgiving ahead.